8Metaballs is a billiard-themed pool simulation game where users can play game modes such as Arcade, Obstacle, PvC, PvP and earn in-game currency and NFTs. The game is being developed by 8META (a company created by Tony and Vitally).
With the in-game currency earned, players can trade it for cues (NFTs) that have special features that allow them to perform better such as hit power, angle of fine-tuning, etc. There are also daily and weekly leadership boards for exclusive NFTs, USD or $MANA cash prizes.
As long as players get XP, they will have new game modes unlocked and more opportunities to earn balls, the in-game currency.
Various Game Modes
Arcade (player plays alone and gets 350 seconds to pot 5 balls and increases the level to earn 50 balls & 50 XP)
Obstacle (player plays alone and gets 233 seconds to complete various random obstacles as mentioned in-game to improve skills while increasing earnings of balls & XP)
PVC (Player plays against a computer called Metaballer and gets unlimited time to win and earn 100 balls & 100 XP)
PVP (Players play against other live players. Player can start a new game or join a game started by another player to win balls and XP)
Free Game (Players practice alone and get 600 secs to pot all balls on the table. Upon completion players earns 70 balls & 70 XP)
Daily and Weekly Leadership boards
Prizes are given to players. The live board is prominently placed in the gaming area and NFTs and cash prizes are regularly distributed to the winners. Detailed announcements about the prizes are made on 8Metaballs Discord and Twitter.
Rewards
Players are rewarded with Balls in 2 ways.
Mission Completion (daily/weekly/monthly achievements and players can earn more balls by completing the missions).
Levelling Up (Upon completing each level, balls are earned by players).
NFT Prizes
Cue NFTs
Players can buy the Cues from the in-game shop by paying with balls or from open Marketplaces by paying in Mana or ETH. Cues are also given as prizes. They have following utilities:
Classic Cue 1: + 10% hit power | Angle 1°
Classic Cue 2: + 20% hit power | Angle 0.8°
Leather Cue: +30% hit power | Angle 0.6°
Carbon Fiber Cue: +40% hit power | Angle 0.5°
Glass Cue: +50% hit power | Angle 0.3°
T-Shirts NFT
Players are frequently given these in-game utility t-shirts as prizes or they can buy them by exchanging the collected balls and XP. Players wearing these t-shirts while inside the 8metaballs building, earn extra balls, over and above the 10 balls earned by default by all players for each continuous 15 minutes of stay inside.
Legendary +4 balls (Total 14 balls earned for each 15 minutes stay)
Rare +2 balls (Total 12 balls earned for each 15 minutes stay)
OG Beta Jacket NFT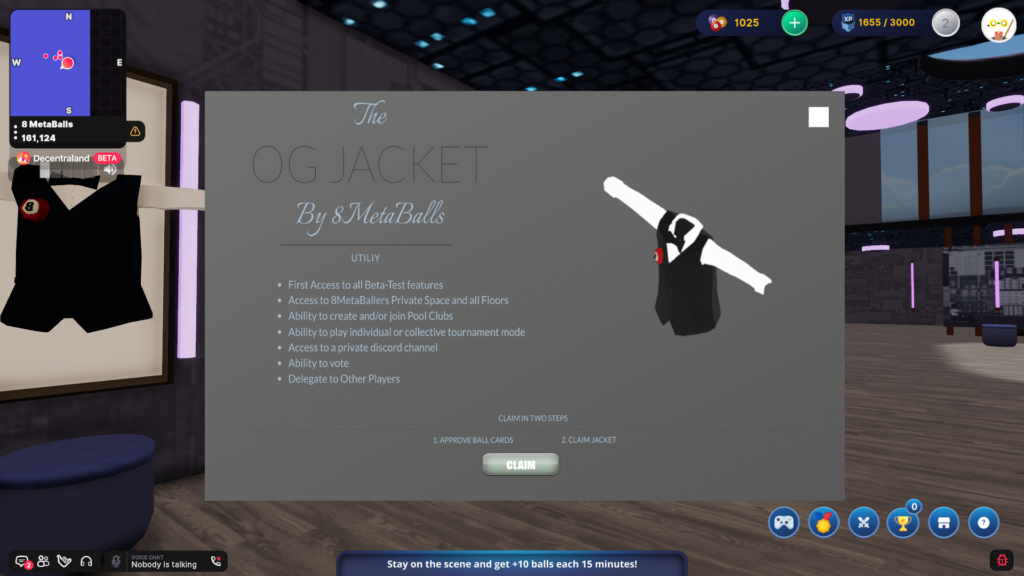 Players earn this jacket NFT by collecting NFTs of all the ball cards from ball card #1 to ball card #16. Each ball card can be purchased in-game in exchange for balls. Each card number multiplied by 1000 decides the value of the card. For example, ball card #1 is for 1000 balls, ball card #4 is for 4000 balls and card #11 is for 11,000 balls. Then players exchange all 1 to 16 ball cards for the jacket. At the time of exchanging all the 16 ball cards, NFTs get burnt and a new Jacket NFT is minted. The players get the following utilities with this jacket:
Access to 8MetaBallers Private room
Ability to create and/or join Pool Clubs
Ability to play individual or collective tournament mode
Delegate to Other Players
First Access to all Beta-test features
Access to a private discord channel
Access to any WL options with new features!
OG Beta Tester NFT
This jacket NFT can be earned by helping the developers test the game and it gives access to new beta features.
Shop
Cues NFTs can be purchased from the shop, paying with the Balls earned in-game by playing various game modes. These Cues have varied hit and angle power, depending upon Balls used to purchase them. The Cues can be sold on Opensea for MANA or ETH.