Community Building Decentraland (a.k.a CBD) is a web3-friendly space where people can connect in the metaverse and in real life. A place where people with similar interests and groups can brainstorm, ask questions, receive feedback, share knowledge, grow their skill sets, and educate themselves. Along with the CBD Discord, interested parties participate in live community talks via "Decentraland Community Building with Sinful & Canessa" Twitter Spaces.
Beginnings
On May 25th 2022, Canessa and Sinful were doing their first Twitter Spaces, when it was decided to create The CBD Discord server to connect communities all together. The first group was based on a Discord Group DM which quickly turned into 3rdeyevisuals previous server to let more people in.
In July, a server migration happened to create a more permanent home with Sinful as the owner, while also undergoing a server restructure. It also incorporated a new tiered system based on user involvement and knowledge.
Structure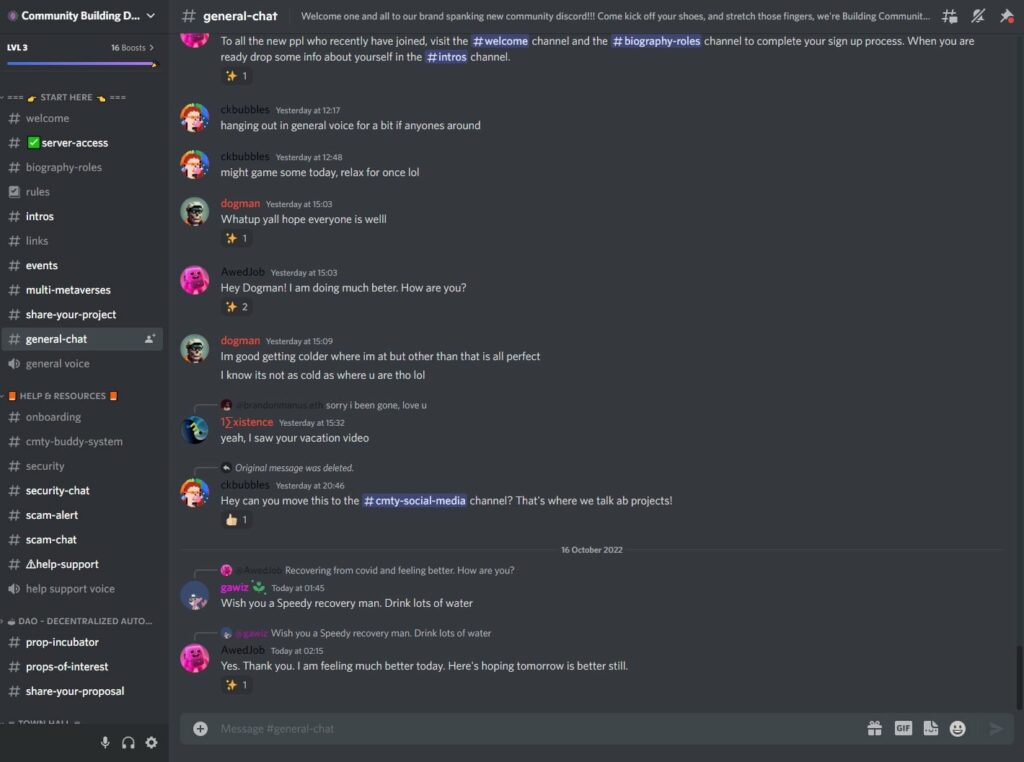 In CBD's Discord Server, individuals can find conversations surrounding many topics including (but not limited to) DAO proposals, 3D modeling, coding/SDK, graphic design, land ownership, and P2E gaming.
While new users can see released projects, users with the role 'Advanced Users' can also see on-going projects.
Community Projects
Universal Greeting: a project started by Bay and 1Existence that consists of creating pictures of Decentraland users with captions in many different languages as possible.
Wondermine Screen: one of the first ideas that appeared in the early spaces of Sinful and Canessa consists of putting a screen with community content at Wondermine.
VP Equity (now part of the DAO town hall): a Discord channel to discuss the future of the VP distribution of the Decentraland DAO.
Unversed: a wiki about Decentraland started by Tobik.
Giving-tree (ex. New User Welcome): a welcome reward incentive program for new users based on wearables that people can donate.